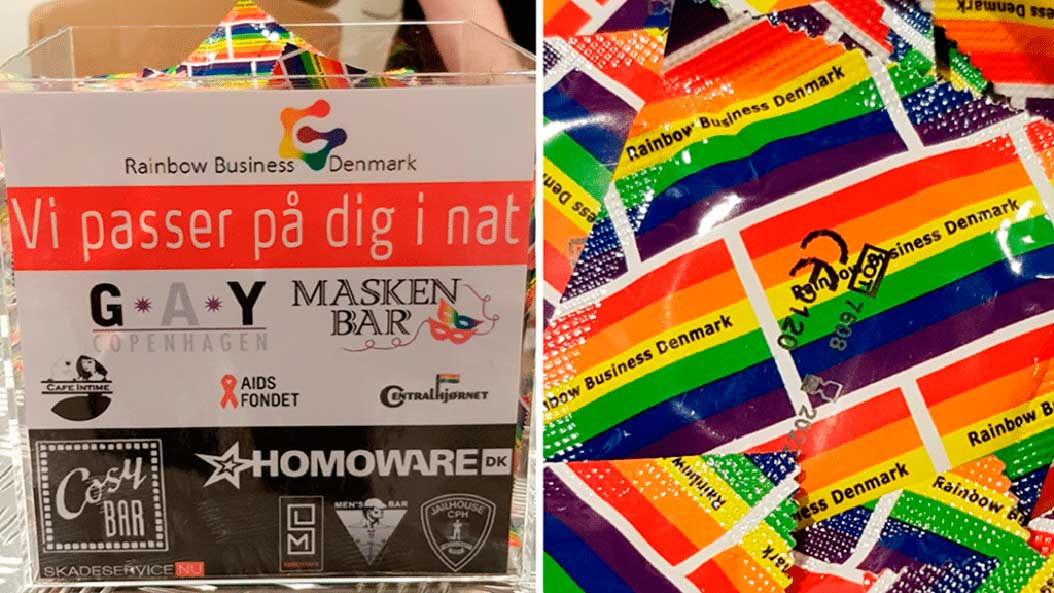 Mange af LGBT-barerne i København er blandt bidragyderne til de gratis regnbuekondomer, som du finder i en gennemsigtig plastikboks på de fleste LGBT-barer rundt om i Danmark.
Rainbow Business Danmark står for at indsamle de 70.000 kroner, der hvert år skal bruges til at indkøbe kondomerne, og frivillige fra AIDS-Fondet står for at distribuere dem.
Men der er brug for flere penge. For ambitionen er også at levere gratis glidecreme og XL-kondomer. Så måske vil vi bøsser i fremtiden holde mere øje med boksene for at se, hvem der tager XL-kondomerne?
Regnbuekondomer er i dag finansieret af Skadeservice.nu, SLM Copenhagen, Men's Bar, Masken Bar, G*A*Y Copenhagen, Homoware, Jailhouse CPH, Café Intime, Cosy Bar, Boyfriend.dk and Kings & Queens.
Men det er ikke kun de barer, som er med til at finansiere regnbuekondomerne, der får mulighed for at tilbyde de gratis regnbuekondomer til deres gæster. Rainbow Business Denmark lægger nemlig vægt på, at gæsterne på alle LGBT-barer bør have lige mulighed for nemt at kunne beskytte sig.
I København finder du de gratis regnbuekondomer på Oscar Bar Café, G*A*Y Copenhagen, Jailhouse CPH, Kiss Kiss, Never Mind, Kafé Knud, Centralhjørnet, Men's Bar, Masken Bar, My Fair Ladies, Cosy Bar, Café Intime, SLM København og Amigo Bar.
I Århus findes regnbue-kondomer på GBAR og SLM Aarhus og i Odense på Lambda.
Ønsker du at yde et bidrag, lige meget om det er stort eller lille, til gratis kondomer og glidecreme, så kontakt venligst Michael Kjeldsen på michael@kjeldsen.global